Grades 5-9
Young adolescents will learn:
That taking responsibility for their choices and actions is an essential part of growing up.
That making choices based on what is right usually produces the best results.
That when we respect ourselves we usually make better choices.
This overview program gives young viewers a solid basis for choices and actions. The first R stands for taking responsibility; growing up is a process of taking increasing responsibility for our choices and actions. The second R is for doing the right thing, which almost always produces the best result and leaves us feeling good about ourselves. The third R is for respecting ourselves, which leads us to make better choices and care more about doing our best.
About the Big Changes Big Choices Series
In Big Changes, Big Choices comedian/teen counselor Michael Pritchard helps young adolescents discover that they have the power and the responsibility to make the right choices for themselves. The TV cameras follow him to middle schools in different regions of the U.S. as he thrills his young listeners with unusual humor about growing up, and engages groups of teens in highly productive problem-solving sessions about serious issues that affect their lives.
Each volume in the series is approximately 25 minutes in length. A printable teaching guide is included on each video which contains discussion questions, writing assignments, and follow-up activities that support the lesson.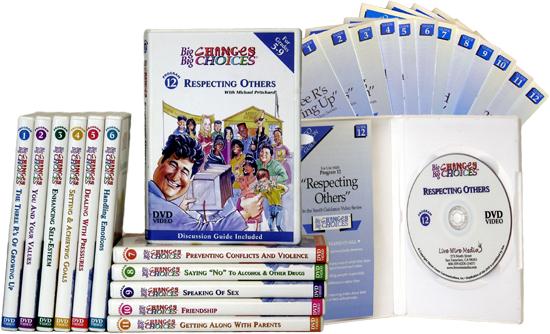 Additional Product Info
| | |
| --- | --- |
| Recommended ages: | Not specified. See product description. |
| Country of manufacture: | USA |
WARNING:
CHOKING HAZARD - small parts
Not for children 3 years or under
0
No reviews yet. Be the first!
Customers who bought this also bought: